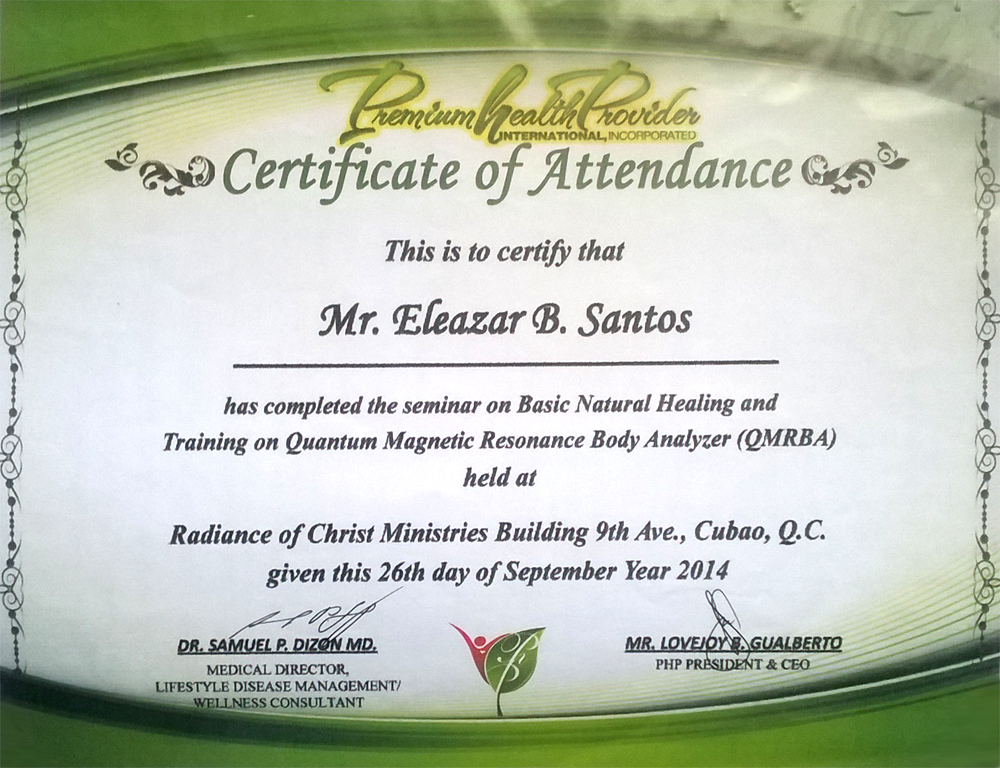 Administration Personnel
1.Reception
2.Analyst
3.Coordinator
4.Farming Mentor
In this Role of a major comfort zone to begin a journey of Health & Wealth.
We have a true Spirit a Light, in Eleazar B. Santos, a true Dedicated member
In Alternative  Medicine, The Legendary Quantum Magnetic Resonance Body
Analyzer (QMRA) please see certificate, a procedure all team members believe in because of its simplicity and success rate. Makes Doctors wonder what it is.
Printed result in a short time. With this comes an allegiance with another legend and in  Dr Samuel P. Dizon MD lifestyle Disease management wellness consultant.
With this comes the opinions and discussions with the one that will help Coordinate who will be the team members needed for the healing process.
Japan, Jakarta or China etc all has to be arranged and supervised by Ely .
Team has a relationship also with Silang Farm Harvest via Ely obtaining the Herbal Therapy and promotes there majestic Teas and produces that we
Privately have because of their most kept secrets and researches kept from commercial exploration simply because of quantities and quality. Available upon request and needed for the recuperation process.
Last but not Least the Reception from Given Airport & Harbour to our Guest's.
Boat & Plane to the Utopia Resort to receive and Transcend the world.
Ely now to be known is a master of Cyber communication and studies of Greek & Spanish, I give you the foundation of Your Arrival and Stay.